WHERE CAN MESOTHERAPY BE USED

A vitamin cocktail treatment

WHERE CAN MESOTHERAPY BE USED

A vitamin cocktail treatment


When it comes to achieving your best skin ever, it's time to introduce yourself to mesotherapy. This unique treatment goes one step further than topical treatments by making it possible for serums, vitamin cocktails, and creams to penetrate the skin's surface via microneedling injections.
That means you'll see results from those skin creams and serums faster, making it possible to enjoy glowing, beautiful skin well before the colder months roll back in.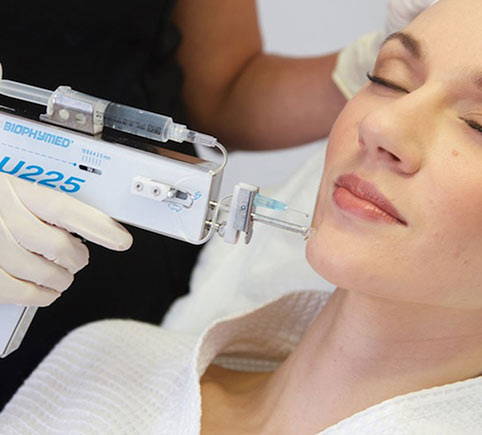 The Benefits of Mesotherapy
Mesotherapy – also known as a "skin-prick rejuvenation treatment" – works by stimulating the production of collagen and elastin in the skin. When tiny micro-wounds are created in the facial skin, the body immediately sets collagen and elastin to work. These building blocks aren't just responsible for healing skin; they also invigorate cellular turnover, resulting in a glowing and flawless complexion.
Mesotherapy takes skin-prick treatments a step further by injecting the facial skin with a cocktail of skin creams and serums throughout the treatment. When this cocktail of vitamins, amino acids, minerals, and antioxidants is injected through the skin barrier, it helps produce younger-looking skin faster.
Where Else Can Mesotherapy Be Used?
While mesotherapy is commonly used on the facial skin, this non-surgical treatment can also be applied to other parts of the body. Popular mesotherapy treatment locations include the following:
- Hands
- Neck
- Chest
- And more!
Mesotherapy on the hands, neck, and décolletage often uses hyaluronic acid creams and serums, which are perfect for plumping and softening these key areas. As a result, you'll look much younger from head-to-toe – not just on your face.
Discover Mesotherapy at Medicetics
If you're interested in discover the benefits of mesotherapy for yourself, schedule a consultation with Medicetics at one of our convenient locations. During your consultation, a Medicetics doctor will walk you through the mesotherapy process so you know what to expect from this treatment.