TOP 10 ANTI-AGING TIPS FOR MEN AND WOMEN

How to keep your skin glowing & refreshed

TOP 10 ANTI-AGING TIPS FOR MEN AND WOMEN

How to keep your skin glowing & refreshed


Whether you're in your 30s, 40s, or beyond, it's likely you have the same goal as most men and women in the UK – you want to look good for as long as possible. That's why you do your very best to take care of yourself, like filling your plate with veggies or making sure you hit the gym at least a few times a week.
But if you want to keep your skin glowing, refreshed, and young, you'll need to take your anti-aging regimen up a few notches. Whether you're a man or a woman, here are the top 10 anti-aging tips you need to keep looking – and feeling! – your very best: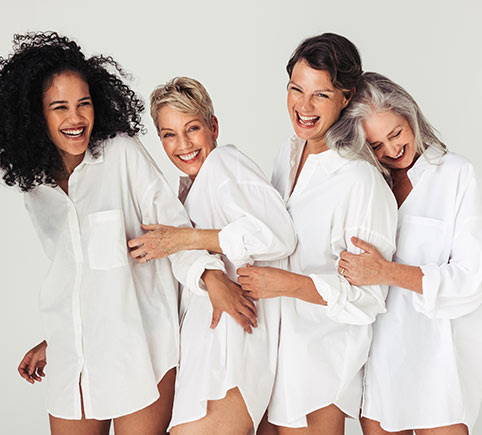 Start Early! You're never too young to start an anti-aging regimen, provided that you're not unhealthily obsessing about it. If you're in your 20s and 30s, focus on cleansing, moisturizing and wearing sunscreen; if in your 40s, 50s, and 60s, add medical grade skin peels and creams to your anti-aging skin care.
Look Beyond Skin Care: You don't need the budget of a Hollywood A-lister to make your skin look young and refreshed. Get plenty of sleep, wear sunscreen, don't smoke, and eat less sugar. Follow these simple rules, and your skin will look young and refreshed in no time.
Always Wear Sunscreen: We've mentioned this tip often, and for good reason – sunscreen and sun protection is key to keeping your skin looking young. Sun damage can cause premature wrinkles, hyperpigmentation, and lead to skin cancer. Wear it whenever you go outside, regardless of how cloudy the weather might be; your skin will thank you for it!
Find a regular exfoliator: Any good anti-aging regimen should include exfoliation that can be done more than once per week. Additionally, older individuals should go for medical grade exfoliates once or twice every eight weeks to encourage regular cellular turnover.
Drink Lots of Water: The more water you drink, the more likely it is that your skin will be glowing, healthy, and hydrated!
Skip Harsh Cleansers: It might feel satisfying to suds up your face, but skip any harsh soaps and cleansers, as they can irritate your skin. Instead, opt for a serum or oil-based cleanser that dissolves dirt and replenishes moisture to your face.
Get Regular Skin Check-Ups: Going to a medical clinic or skin care spa should be tantamount to visiting the doctor – you should do it on a regular basis to maintain your best skin possible!
Eat a healthy diet: The antioxidants in fruits, veggies, and other superfoods can be useful for battling wrinkles, decreasing puffy dark circles, and promoting cellular turnover.
Choose the right products: Instead of looking for the most expensive skin care products, choose the ones that are recommended by dermatologists and physicians alike. These trusted products should take precedence over the latest trends and fads in the beauty industry.
Decrease Your Stress Levels: The more stressed you are, the more likely it is you'll skip out on sleep and fill up on sugary foods. No matter how busy your schedule might be, make sure you're taking time to spend on the activities you love.