PROFHILO VS DERMAL FILLERS

Which treatment is good for you?

PROFHILO VS DERMAL FILLERS

Which treatment is good for you?


We asked, and you answered! This week we ran an Instagram poll to find out what YOU want to know about injectables (if you would like to take part in our next poll, head over to our Instagram!) We were overwhelmed with the response and delighted to hear from you.
When asked if you know the differences between Botox, dermal fillers and skinboosters such as Profhilo, 58% of you said no and a massive 90% of you want to know more.
We want to ensure you feel as informed as possible on these fantastic treatment methods, so today we are starting with the key differences between dermal fillers and skinboosters such as Profhilo. Let's get to it!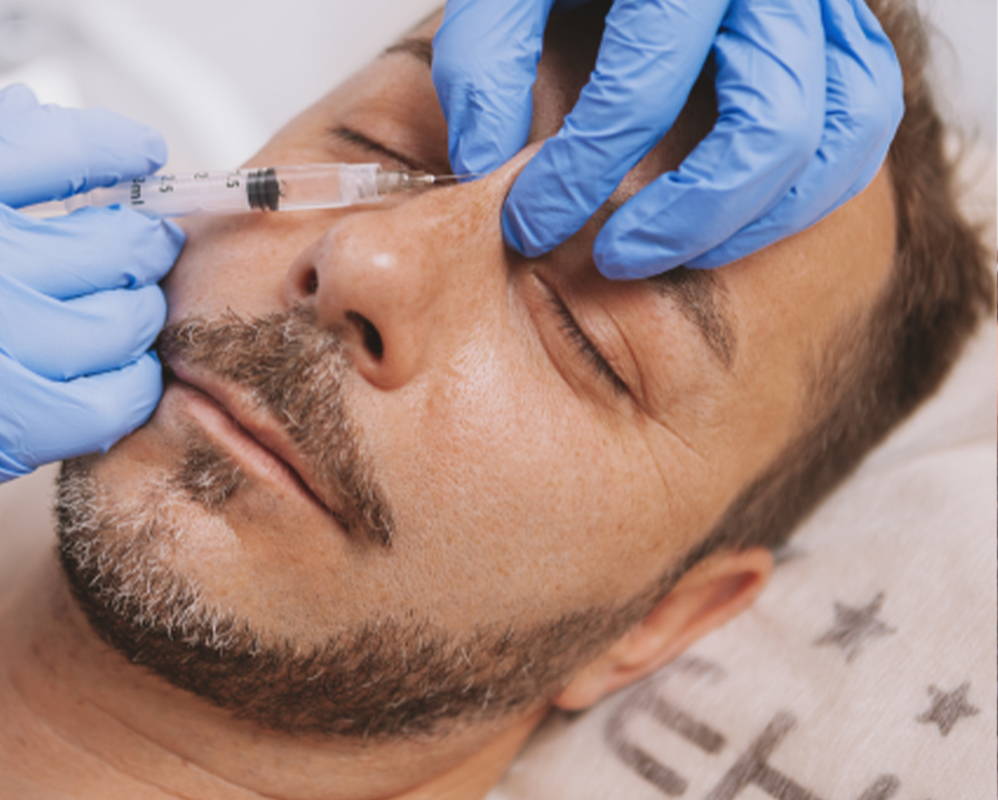 First things first; what do dermal fillers and Prohilo have in common?
Superpower ingredients
One aspect that dermal fillers have in common is their superpower ingredient; Hyaluronic Acid. If you are a keen skincare enthusiast, you will be well aware of Hyaluronic Acid! Known as 'nature's moisturiser', Hyaluronic Acid is a key molecule naturally occuring in our skin, and essential for retaining moisture, preventing dehydration and keeping skin resilient. Our Hyaluronic Acid levels naturally begin to drop from around 30 years old upwards which is when we typically start to notice signs; skin can lose its youthful elasticity (appearing thin and 'crepey'), the complexion can start to appear dull and we notice fine lines and wrinkles emerging.
Both Profhilo skinboosters and dermal fillers use Hyaluronic Acid to replenish moisture levels in the skin and stimulate natural collagen and elastin production. In other words, they give your skin its well deserved glow back!
How the treatments are administered
Both Profhilo and dermal fillers are administered with a small needle, or in some cases with dermal fillers, a cannula. Injection sites for both treatments are very small, however there can be some discomfort and slight swelling and bruising afterwards. Both treatments should be administered by a doctor.
So, what are the main differences between Profhilo and dermal fillers?
How they work for your skin
If you are starting to notice a lack of volume, for example the jowl area is starting to sag slightly or you are losing definition in your cheeks (which, by the way, is completely NORMAL) this is where dermal fillers are your friend. Fillers are expertly injected to subtly add volume, reshape and contour. At Medicetics we use a range of specialist dermal filler products such as Juvederm® ULTRA and Juvederm® Voluma (manufactured by Allergan), Teosyal and Beltoreo (Merz) to achieve the best results.
Skinboosters such as the Profhilo treatment don't add volume or reshape. Instead, Profhilo uses that all important Hyaluronic Acid we talked about to enhance skin tone, texture, elasticity and hydration.
What skinboosters like Profhilo are NOT
"Profhilo cannot VOLUMISE. It can change your facial contours, give you new cheeks or define your jawline. This is what fillers are for! But this is what appeals to so many of our clients too… Profhilo is brilliant at giving your skin a little 'padding', making it feel and look a little smoother, brighter, more hydrated and ever so slightly plumper. Perfect for early changes in texture or crepiness. Profhilo only stays in the skin for 30 DAYS – not the 1 year+ that many of our fillers will stay put for." – Dr Vicky Dondos
Areas they treat
Dermal fillers are fantastic for enhancing lips, adding definition to the cheeks and redefining the jawline. They can also treat nose-to-mouth lines, reduce eye bags (tear trough fillers), reshape the nose and chin, lift the eyebrows and reduce crow's feet and laughter lines. When applied by a Medicetics professional, dermal fillers can subtly enhance your natural features to leave you feeling like you… just at your best.
Profhilo is the ultimate treatment to give areas such as the face, neck, decolletage and hands some needed TLC. Skinboosters intensely replenish the skin to reduce fine lines, rehydrate a dull, dehydrated complexion, and boost elasticity. The results are subtle yet noticeable, and your skin will thank you for it.
How many sessions are required
Dermal filler results generally last from 3 to 18 months, depending on the area. We recommend one treatment per year for the best results. With Profhilo, it is best to have your initial treatment and then a second session one month after. The results generally last up to 6 months, so we would recommend twice yearly sessions following on from that.
If you would like to know more on how these transformative treatments can help you, why not book a consultation with a Medicetics expert? We can't wait to see you!